55″ H6400 6 Series Flat Full HD Smart 3D LED TV
Series 6
Smart Hub 2016
Wide Color Enhancer
Smart View
No warranty
Powerful Quad Core processor for faster performance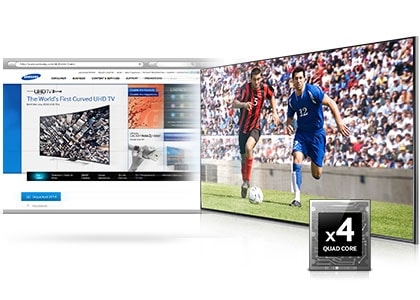 Thanks to a powerful Quad Core processor, your Samsung Smart LED TV offers enhanced performance. You'll notice the difference straight away, with faster multitasking and switching between content and web browsing, as well as smoother interaction. With this extra power, your entertainment experience will be so much more enjoyable, with less waiting and more viewing.
Enjoying Smart TV is now easier and faster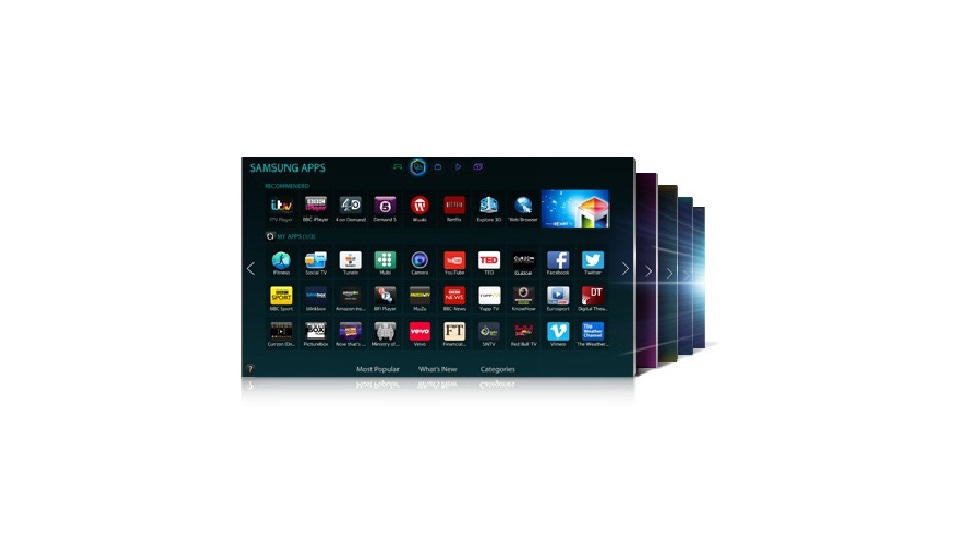 The industry's reference Smart platform just got better. The leading Smart TV experience is now even more powerful, with faster access to Smart features, true multitasking and an intuitive interface. As soon as you turn your TV on the Smart Hub provides instant access to your most frequently used and favourite content, channels and sources from the new customisable bar at the bottom of the screen. To enable you to access even more great entertainment the Smart Hub intelligently organises and manages all your content into five easy to navigate panels: On TV; Movies & TV Shows; Multimedia; Apps; and Games panel. 1
Enjoy great gaming on your TV without a console
Now you don't need a game console to enjoy exciting gaming at home. You can play the latest exciting games right on your Samsung Smart TV. Explore games using the new Smart Hub Games Panel, with categories including racing, sports, action and family games. You can even use your Samsung Smart Control or a compatible mobile device as the game controller. Enjoy some more family time with the Games Panel. 2
Easy touchpad and motion control for your TV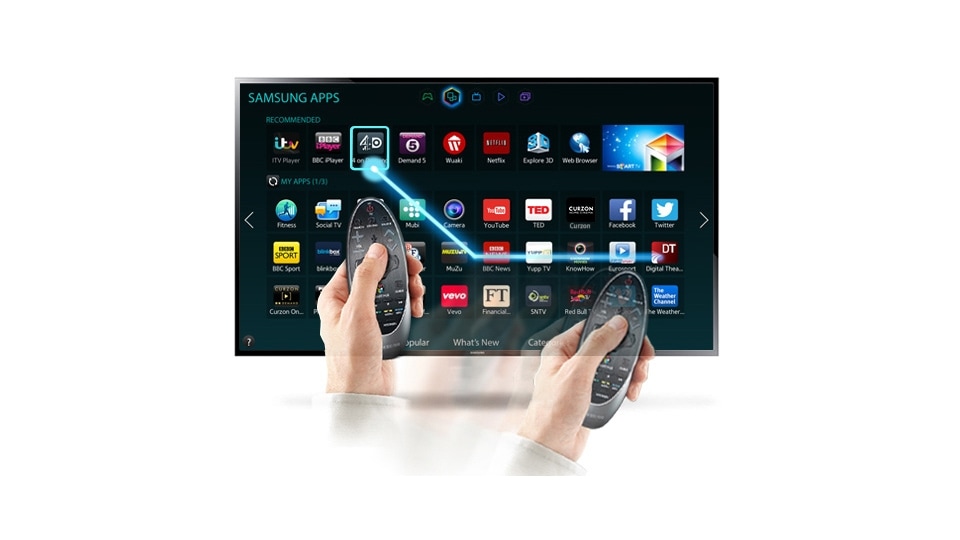 Using your TV is more intuitive with the Samsung Smart Control. Using the touchpad you can flip between Smart Hub panels and scroll down webpages, and by pointing the remote, you can utilise Motion Control to move the on-screen cursor to navigate and enter text easily. Useful video control keys also help you watch movies, TV and other content you've downloaded or streamed on demand.
Your TV understands whole sentences of speech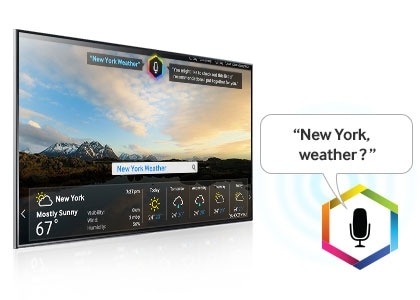 Thanks to Samsung's latest Voice Interaction, you can control your TV with more than just one-word commands. If you want to watch a film, just say "find" followed by its title and "movie". If you want to watch TV Channel 7, just say "Channel 7". To visit a website, simply say its web address. You can also use your voice to search weather, sports and stock information and open apps like YouTube. 3
Clear Motion Rate minimises motion blur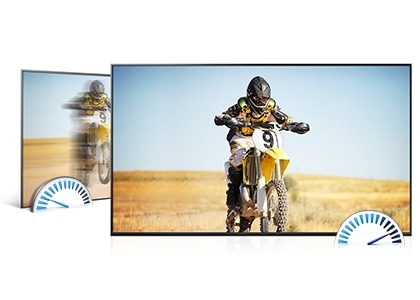 Thanks to Samsung's advanced Clear Motion Rate (CMR) technology, even fast moving scenes are delivered with clarity. A higher CMR means clearer viewing and less motion blur, so you can enjoy action films, sports and other entertainment at their very best. This technology is possible due to an enhanced panel refresh rate, image processor speed and backlight technology. That means viewing that's clearly better.
Immersive realism with Samsung Full HD 3D technology
Prepare to see entertainment in a whole new way. Samsung's sophisticated Full HD 3D technology means you can even enjoy 3D movies and TV shows at stunning Full HD resolution. It also enhances your 3D picture quality and cuts out ghost images to give you clearer and more immersive viewing. With such a high level of realism, you've never experience 3D like this before. 4
All the excitement of the big match with Football Mode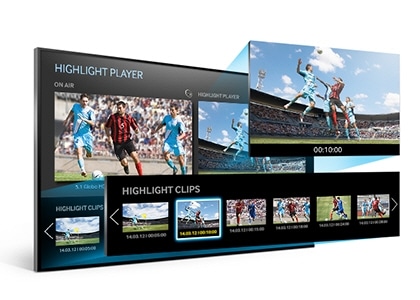 Football Mode sharply and vividly brings out the green grass of the pitch and all the other colours of the stadium. A powerful multi-surround sound effect also lets you hear all the excitement. Once you turn on Football Mode, it will automatically start recording all action on the TV. And when there's a change in sound, like the roar of the crowd's cheer, or a change in the score, it will know to automatically save the highlights for you to watch later. Play live and recorded matches simultaneously for the ultimate soccer experience at home. 5