55″ UHD 4K Curved Smart TV JU6600 Series 6
Curved TV
Pur Color
Ultra Clean View
UHD Upscaling
Experience more accurate and natural colors
Samsung developed a special color technology for our Curved Smart UHD TV called PurColor, which expresses a wider range of colors and shades that are as close to real life as it gets, bringing you closer to what nature intended. With all the 8 million pixels that come with a UHD display-four times more than a Full HD display-you need more color adjustment points to create detailed images. Conventional UHD TVs have about 27 color adjustment points, but PurColor dramatically increases that by more than 7 times, resulting in colors and shades that are much richer and more refined.
Surround your senses and be part of the action
Samsung's revolutionary Curved TV takes you into the new world of immersive viewing and makes you feel as though you are right in the middle of the action. The screen is curved at the right angle to provide the best viewing distance for your living room. Also, the gently curved screen gives you uniform and balanced viewing from all areas of the screen. See the finest picture quality, depth and detail a screen has to offer.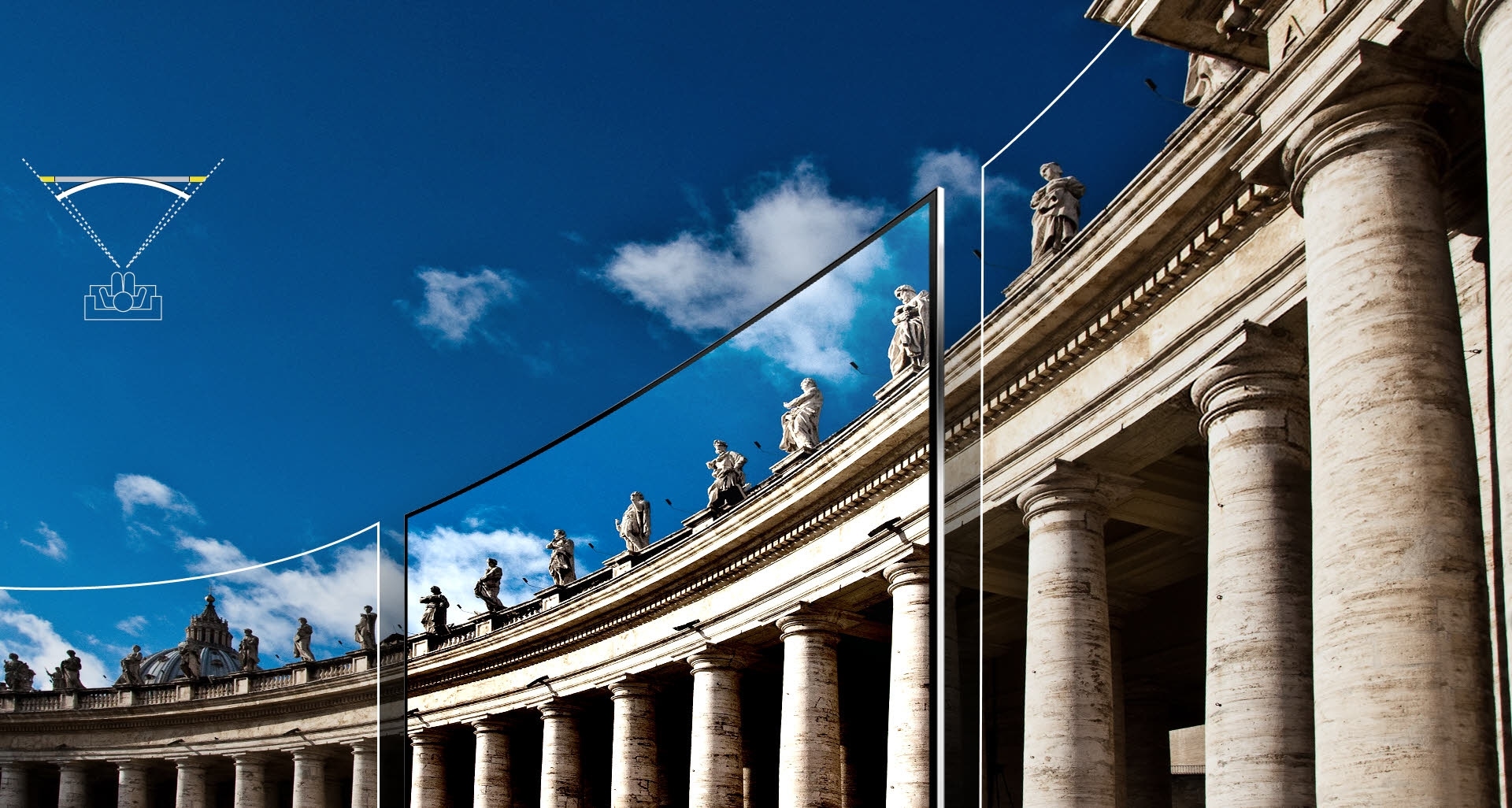 Realistic viewing with automatic depth enhancement
Flat images come to life for a surreal viewing experience with Samsung's Auto Depth Enhancer. Your Samsung Curved TV will give you a greater feeling of depth by applying different levels of contrast enhancement to different areas and objects of the screen, making your entertainment more immersive and enjoyable. Cinematic shots of deep majestic valleys or mountain tops with sweeping panoramas seem even more breathtaking. You truly have to see it to believe it.
4 times the Full HD resolution
Ultra HD viewing means you can see every intricate detail on the screen clearer than ever. Your Samsung UHD TV offers a resolution four times higher than Full HD, with accurate true-to-life color. Enjoy a picture that's optimized for even greater clarity and detail than you've ever seen before.
A smarter TV that gets you right to your content instantly
Your gateway to the all-new, smarter TV experience is right at the bottom of the screen, so you never lose sight of your current entertainment. The fun-to-use Smart TV menu bar gives you faster, smoother and truly intuitive access to all the content you love. There's no need to fumble around searching for the content you want—it remembers your history, placing your most frequently used content right before your eyes on the menu bar so it's easier than ever to find your favorite content. You can even explore exciting new kinds of content, because Samsung Smart TV continuously recommends new featured content that you may enjoy. Discover the most seamless Smart TV experience yet.
*Requires Internet access. May not be available in all languages and areas. **Screen image seen here is a representation only. Actual user interface may differ. ***Content, TV services and capabilities pictured may not be available in all regions and territories.
Now you can truly enjoy all your Smart TV content and features with ease
Say goodbye to those boring user manuals and say hello to an easier, more intuitive Smart TV that lets you dive straight into the content. It's fast, powerful, full of fun, and most of all, easy to use. It puts all your favorite content right at your fingertips on an incredibly simplified Smart Hub that's blazingly fast, thanks to Samsung's Quad Core processor. It turns on in an instant, lets you zip between content and also remembers what you were watching for super quick playback. With all that power, you can multitask with ease, searching for content or information without leaving the show you're watching. Your Smart TV experience just got a whole lot better.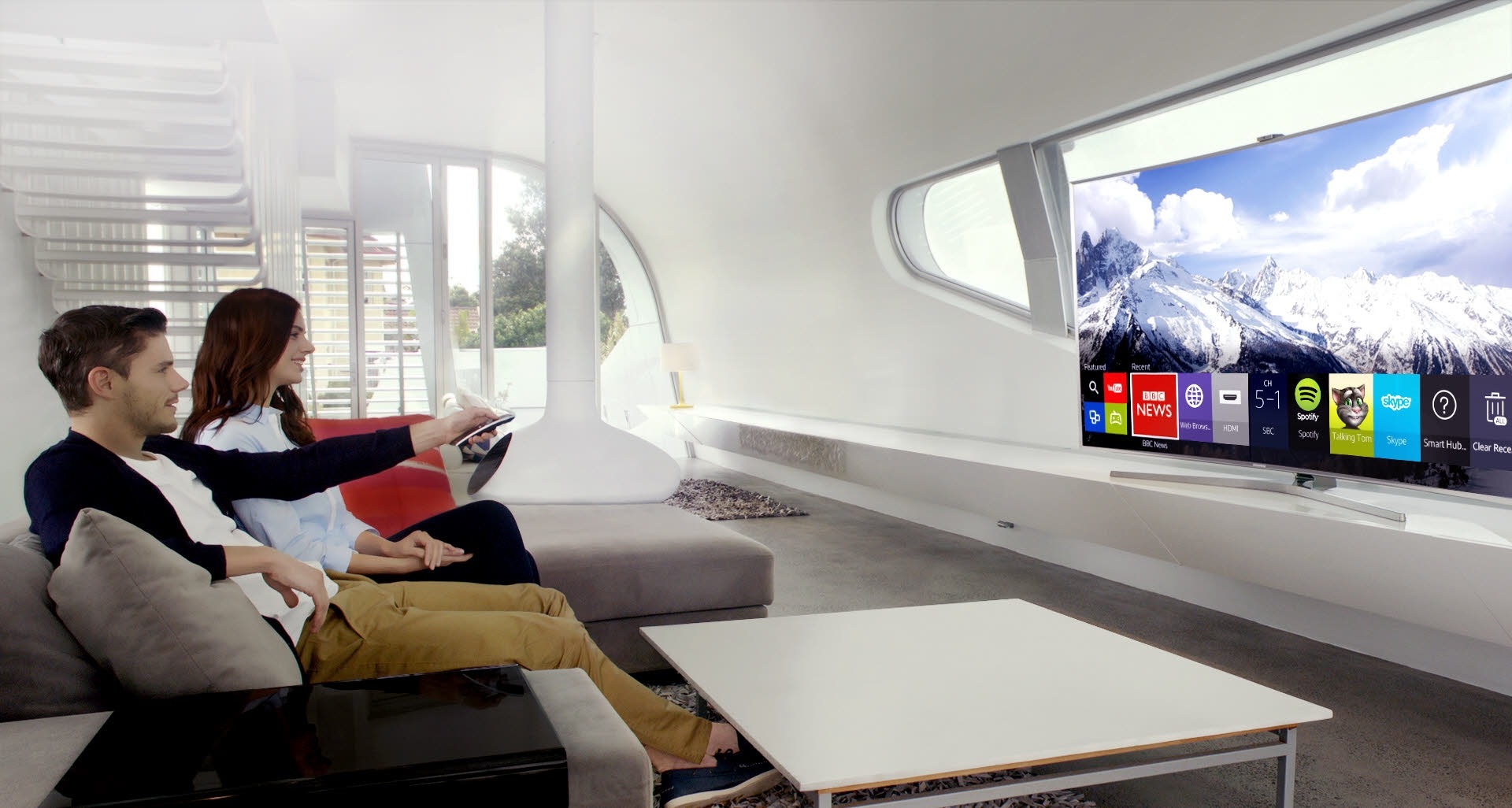 Your TV and mobile devices in perfect sync
Samsung Easy Sharing makes it easy to share content between your TV and mobile effortlessly. Whether it's a fun video on your smartphone you want to share with family, or that must-see TV show you were watching on the way home that just has to get on the big screen so you can free your hands. Samsung Smart TV picks up the signal when your device is close and seamlessly plays the content in the optimal resolution for the big screen. It works the other way around, too, letting you go mobile right away so you can freely move about your house while viewing your favorite content on your device. Perfectly seamless and perfectly in sync.
6 Months Warranty.